Daffodil International University has set an example to follow- Nurul Islam Nahid MP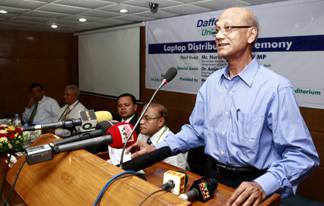 Education Minister Mr. Nurul Islam Nahid MP addressing as the chief guest at Laptop Distribution Ceremony at Daffodil International University
Education Minister Nurul Islam Nahid MP said that Daffodil International University has set an example to follow while addressing as the Chief Guest of Free Laptop Distribution program at DIU Auditorium on Sunday. He said that the distribution of laptops among the students is unique and the students would be able to utilize the devices for enhancing their skills.
Education Minister also said that at present technology has become part and parcel for delivering and receiving education. It is very encouraging that Daffodil International University has come up with such a brave endeavor to distribute free laptops to the students. He also urged other educational institutions to follow the examples of Daffodil International University and adopt such measures so that our future generations could combine knowledge, skills and resources with the help of technology to solve problems in real life situations.
He added that our government has made significant advancements for use of digital technology in different aspects of life, specially, education and administration. He thanked Daffodil International University for playing supporting role in line with government initiatives to materialize Digital Bangladesh.
He urged the students to exploit and utilize all available opportunities of DIU to equip them with Information Communication Technology (ICT) skills to be development as competent workforce of the country. He said. Technology has become part and parcel of modern education system. He hoped this brave endeavor of DIU will encourage other institutions to launch this kind of initiative to help achieve the vision of Digital Bangladesh.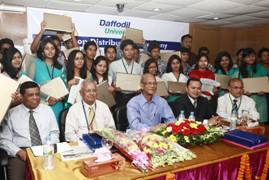 Education Minister Nurul Islam Nahid MP, Mr. Md. Sabur Khan, Chairman, BOT, Emeritus Professor Dr. Aminul Islam, Vice Chancellor Professor Dr. M. Lutfar Rahman and Professor M. Shajahan Mina, Advisor to the Chairman, BOT seen with the Laptop recipient students at Laptop Distribution Ceremony at Daffodil International University.
To prepare the students for the 21st century and to adapt them to the latest ICT friendly education which will develop their knowledge, skills and abilities to fit globally, Daffodil International University distributed laptops free of cost among the students on July 16, 2011 at DIU Auditorium. Presided over by Mr. Md. Sabur Khan, Chairman, Board of Trustees, Daffodil International University, the Laptop Distribution Ceremony was inaugurated by Mr. Nurul IslamNahid MP, Minister for Education of the Government of the People's Republic of Bangladesh as the Chief Guest. The Minister distributed laptops among the students. Founder Vice Chancellor of DIU and Emeritus Professor Dr. AminulIslam addressed the occasion as Special Guest. Prof. Dr. M. Lutfar Rahman, Vice Chancellor, Daffodil International University delivered the welcome address at the program.
The authority of Daffodil International University took the massive initiative of "One Student: One Laptop" program for the students, which is one step ahead for digital Bangladesh. Every student getting admission into DaffodilInternational University from Summer Semester-2010 and onward will get a laptop free of cost.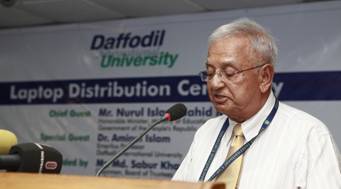 Founder Vice Chancellor & Emeritus Professor of Daffodil International University Dr. Aminul Islam addressing the Laptop Distribution Ceremony as the Special Guest
Addressing as the special guest, Founder Vice Chancellor and Emeritus Professor of Daffodil International University Dr. Aminul Islam said, "We, at the present context of Bangladesh, are more than visionary. In the same time we want to make our ideas come true. Leaving all constraints behind, DIU is going for distributing free laptops among all our students in a time when IT backbone of the university is fully equipped with a spectrum of facilities available for students." He hoped that it will be so easy and reachable to the students to use Education ERP of DIU, Learning Feedback System (Social Web), E-Library of the university, DIU Forum and so on which have already been developed by the university.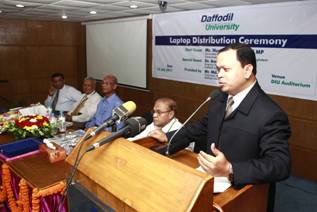 Mr. Md. Sabur Khan, Chairman, Board of Trustees, Daffodil International University was addressing as the President of the session.
Mr. Md. Sabur Khan, Chairman, Board of Trustees, Daffodil International University said that it was a long cherished dream of the university authority to implement the project "One Student-One Laptop" with the vision of becoming a Digital University in line with the policy of Digital Bangladesh. He added that as an essential part and contemporary demand of modern education, DIU has focused on ICT automation facilities for students and employees since its inception. It is envisaged that DIU graduates can stand out by competing with other graduates both nationally and globally with their skills that they will acquire from this university.