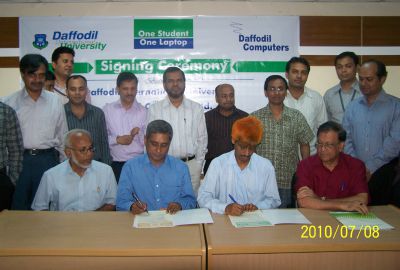 Signing Agreement between DIU and DCL
With the motto of 'using technology for transforming education', Daffodil International University (DIU) set out a project named "One Student: One Laptop" with a view to providing every student with one free laptop. For this,DIU received logistic and technical supports from another sister concern of Daffodil Group -- Daffodil Computers Limited (DCL). In this regard DIU signed an agreement with DCL on 08 July 2011. The technological partnership between the two institutions has fulfilledDIU's dream to bring technology to the doorsteps of all its students. Under the agreement, DCL is to provide DaffodilPC laptops to the students of DIU with all related services.
Daffodil International University takes pride in being pioneer in initializing the theme of One Student One Laptop in the history of private universities in Bangladesh. DIUstarted distributing DaffodilPC laptops among the students from 2nd February 2011. A student, named, Ms. Thanjida Akhter from the Department of CSE was the first DaffodilPC laptop recipient.
DIU laid emphasis on Information and Communication Technology since the inception of the university in 2002. Gradually it introduced and implemented many ICT-oriented projects, software and modules. One Student One Laptop project is a unique example of its technological orientation in line with Digital Bangladesh campaign of the government. It has become an inspirational model for other universities of Bangladesh. DIU believes that in today's world superiority of any nation is determined not by its military prowess but by its IT prowess. The students graduating from DIU will presumably excel in their skills to compete nationally and globally.
Mr. Nurul Islam Nahid MP, Honorable Minister, Ministry of Education, Government of the People's Republic of Bangladesh, distributed laptops among the students at a Laptop Distribution Ceremony at the DIU auditorium on 16th July 2011. He said that Daffodil International University (DIU) has set an example by giving students laptops which will meet the purpose of getting quality education. He urged the students to utilize all available opportunities of DIU to equip them with ICT skills to be competent citizens of the country. He hoped that it will encourage other institutions to launch similar initiatives to materialize Digital Bangladesh
News